Purposefully Crafted
Traditional toilets are painfully uncomfortable, and for people experiencing pain and discomfort from Back injuries and Surgery, Gastrointestinal issues (IBS, Sciatica, etc.), Pregnancy, Postpartum, and Aging, this means an even more painful and longer time on the toilet.
Benefits:
1. Provides instant comfort
2. Prevents slouching, which can lead to back, neck, and shoulder pain
3. Relief from pain and discomfort
4. Lumbar Support - maintains the natural curve of your spine
5. Improves posture
6. Relaxes the pelvic floor for people with trouble "going"
Watch How Potty Pillow Works

Everyone Deserves
A Comfy Throne.


Comfort Made
to Last.
Premium Vegan Leather
Made from premium vegan leather, Potty Pillow brings a touch of luxury to any bathroom for a luxurious and comfortable experience.
Ergonomic & Modern Design
Fits perfectly in your bathroom & looks great / aesthetically pleasing.
Your guests will be wowed!
ANTIMICROBIAL
Equipped with antimicrobial
properties that effectively reduce
germs, bacteria, and molds by 99.99%
WATER RESISTANT
Liquid of any kind will not penetrate the surface. Spills or urine just doesn't stand a chance.
EASY TO CLEAN
Simply spray with your favorite cleaning
product. Covers can also be removed to
hand-wash and air dry for a deeper clean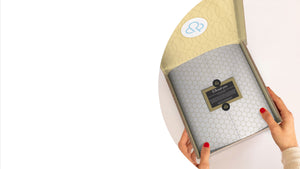 Let customers speak for us
"Whatever you do on the toilet, Potty Pillow will be there to support you"
Rena Queen – Founder & Creator
For me, the bathroom has always been a place of refuge. Growing up as a little girl, during the many years of civil wars that ravaged my home country of Liberia, escaping to the bathroom was my own way of enjoying alone time away from the many cousins that lived in my home.